Are you going to visit the beautiful city of Ghent or are you just going there to shop? The center of the city is not free and can quickly become very expensive if you don't know the good spots.
By using our parking tips you will be able to spend less on your parking and more on your shopping, boat trips on the 'Leie' or on a delicious waterzooi .
Free parking in the P+ R Parkings
If you are looking for some free parking spot for your car, Park + Ride parkings are the best parking option for you ! Bonus: Smart bike stations .are located next to P+R parking.
These parkings are situated outside the city center but the center stays very accessible with public transportation.
We chose 4 P+R parkings out of the list that we think are the best if you need to be in the city center: Gentbrugge, Gentbrugge Arsenaal, Muid, Bourgoyen.
If you want to look for other P+R parkings in Ghent, you can look them up here .
The table below gives you an overview of the characteristics of the 4 P+R parking: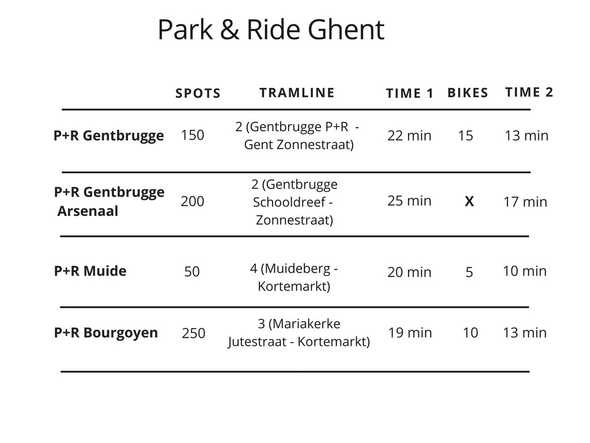 All of the above listed parkings recommend a bicycle route that you can follow to reach Ghent's center.
*Time 1 refers to the time that you're likely to spend in public transport from the P+R parking to reach the center of Ghent — with the 'Korenmarkt' as reference/point of arrival.
**Time 2 refers to the time that you're likely to spend to reach 'Korenmarkt' by bike.
More about Trapido — Ghent's smart bikes
Trapido is Ghent's shared bicycle service.
Parking your car in one of the many P+R parkings and taking a shared bike to reach your destination is very advantageous pricewise.
In addition, this is the most flexible solution to move around easily.
To use it you can either download the 'Smartbikes' app or register beforehand here.
If you have registered via the website, you will receive a Smartcard* a couple of days later . The card will enable you to to rent a bike.
With this card, you'll also be able to unlock the bike lockers that are available in some of the P+R parkings.
Pro tip: prepaying your bike is going to cost you half the price. With the prepaid option, renting a bike will cost you:
0h — 4h use: 1€
4h — 12h use: 2€
12h — 24h use: 4€
24h — 48h use: 12€
48h — 72h use: 36€
If the bike is returned after 72h it is considered as stolen or lost. In that case, 200€ will be withdrawn from your bank account.
A 10€ deposit will be kept for the Smartcard as a guarantee.
You can find a Trapido bike in most of the P+R parkings ( Bourgoyen, Expo/The Loop, Galveston, Gentbrugge, Hekers Muide, Oostakker, Watersportbaan) and in Bellevue and tram stop Klaartestraat.
Learn more about Trapido here .
Free parking in specific streets
Just outside Ghent's center, you will find some streets where parking is free and unlimited in time.
This another great tip for occasional visitors.
Locals might even learn something new here!
You will find free parking in the following neighbourhoods: Malem, Brughuizeken, Rooigem, Manilawijk, Kollegem, Muide,Westveld, Moscou and more.
All free parking is displayed in green on the map.
Malem & Brughuizeken
As you can see on the map, the neighborhood of Malem has plenty of green streets. One of them is Constant Dosscheweg.
Take the bus at Gent Overzet (number 38 or 39). You'll reach Korenmarkt in 12 minutes.
Also in the neighbourhood of Brughuizeken has plenty of green streets, for example Drongensesteenweg and the surrounding streets.
Going from there to the center (Korenmarkt) only takes 16 min by bus. Take bus number 17 or 18 at bus stop Drongen Brughuis.
Rooigem
There are several free parking streets In Rooigem in and around Wielewaalstraat.
To get to the city center, take tram 3 or 1 at Gent Rooigemlaan stop. It will take you around 17 min to reach Korenmarkt.
Sint-Baafskouter
If you're in Sint-Baafskouter neighbourhood, you can park for free in Jos Verdergemstraat.
This is located at 20 min from 'Korenmarkt' if you take the tram line 3 at Sint-Amandsberg Heernisplein stop.
Kaai
Another area with plenty of free parking spot is the Schipperskaai.
From there you can take tram line 5 or 8 at Dok Noord and get off at Gent Sint Jacobs to reach the city center. The whole trip will take you around 17 minutes.
Muide
In the neighborhood of the Muide, you can park in various streets.
Londenstraat is one of them.
Take tram line 4 to get to the center of the city from stop Muideberg to Korenmarkt.
It will take you 21 min to get there.
For more information on all free streets in Ghent, don't hesitate to explore our online interactive map.
Park in the city center
In some streets in the city center, you can park for a short period of time (max 3h) between 9am and 7pm.
Those streets are the following:
Antwerpsesteenweg (between Land van Waalslaan and Visitatiestraat)
Brusselsesteenweg (between Edward Pynaerkaai and Hoveniersstraat)
Dampoortstraat
Dendermondsesteenweg (Dampoort until Blijde Inkomststraat)
Edmond Van Beverenplein
Gentbruggeplein
Jacques Eggermontstraat
Joremaaie
Ledebergplein
Noordstraat
Normaalschoolstraat
Wondelgemstraat
Zwijnaardesesteenweg (between Normaalschoolstraat and Burggravenlaan)
Parking in those streets is not free except for the inhabitants who have a resident permit.
Note that in Wondelgemstraat, even resident are not allowed to park more than 3 hours.
Over to you
Thank you for checking out this article. We hope that those tips will help you save time and money with your parking in Ghent.
If you want to explore the interactive map of Ghent to discover other parking gems around you, you can download our app for iPhone or for Android or visit the online interactive map.
Are there parking tips missing from this list? Do you have other mobility tips to share? We'd love to read about them. Just leave them in the comment section below.