Planning on visiting the city of Antwerp, going shopping, buying a diamond for your lover or just visiting a friend? Antwerp can be pretty expensive if don't pay attention where you park or if you're not aware of the city's rules.
Here are Antwerp's best parking tips that will help you gain time and money.
General parking rules in Antwerp
Parking in the center of Antwerp is very expensive, even for just a couple of hours.
You have to pay in the red, orange and yellow streets displayed on the map.
Hours and fares depend on the parking zone that you are in. You can find more info on the interactive map above.
Note however that parking in these zones is free during 10 minutes but don't forget to take your parking ticket !
As for the blue streets, you are allowed to park for free for a period of maximum 2 hours from Mondays until Sundays from 9h to 18h. Note that a parking disc is mandatory.
Parking is only free in the streets displayed in green.
Low emission zone in the center of Antwerp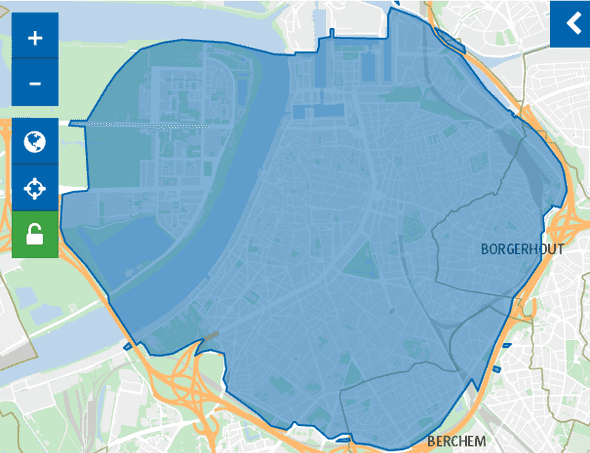 If you plan to go by car to Antwerp, you should know that since February 1st 2017, the city is a low emission zone.
This means that the city refrains the most polluting vehicles from entering the center of the city.
Go on this website to check whether your car is allowed to enter the city center.
Your car does not satisfy low emission conditions? No problem! You can always buy a LEZ Day Pass for 35€. Beware that those passes can only be bought 8 times per year.
❗ A LEZ Day Pass does not replace a parking ticket ! You still got to buy one.
If you want to read more about this, you can visit Antwerp's website on the low emission zone.
Free Parking in Antwerp - P+R Parkings
In most cases, you'll have to pay to park in Antwerp's streets.
However, not too far away from the city center, there are some large parking areas where you can leave your car for free and without any time limit. Those zones are called P+R parking.
From there you can easily move around by walking, bike, bus or tram. Pretty neat, right?
Here are the three P+R parking to go when you want to go to the city center:
P+R Linkeroever(10 min from 'Meir')
Blancefloerlaan 1 (2 en 3), 2050 Antwerpen
From there you can take the tram line number 3 (Zwijndrecht — Merksem) or 5 (Linkeroever — Wijnegem) if you want to get off at Groenplaats, Meir or Astrid.
You can also take tram line number 9 (Linkeroever — Eksterlaar) en 15 (Linkeroever — Boechout) and get off at Groenplaats, Meir of Diamant.
P+R Keizershoek (26 min from 'Meir')
Bredabaan, 2170 Merksem (adresse gps: Fortsteenweg Merksem)
Take tram line number 2 (Merksem — Hoboken) or tram line number 3 (Merksem — Zwijndrecht) and get off at Astrid, Opera, Meir of Groenplaats.
Or take bus number 640 and get off at F. Rooseveltplaats.
P+R Melsele (25 min from 'Meir')
Vendoorn 1, 9120 Melsele
Take tram line number 3 (Merksem — Zwijndrecht) to get you at Groenplaats, Meir, Opera or Astrid.
Park for free along the quayside
Looking for another alternative to park closer to the centrum of Antwerp? Park along the quayside.
These parking places are situated at approximately 10 to 15 min walking distance from the Meir. Parking there is free.
The parkings along the quayside are:
Scheldekaaien:
Sint-Michielskaai (10 min with public transport and 15 minutes by walk)
Cockerillkaai (12 min with public transport and 20 minutes by walk)
De Gerlachekaai (15 min with public transport and 25 minutes by walk)
Gedempte Zuiderdokken:
Vlaamsekaai (15 min with public transport and 22 minutes by walk)
Park cheaper with day tickets
In some streets, you can buy a Day Ticket for 3,8€. That is very reasonable compared to the normal fares.
Those streets are represented on the map below by a solid orange line.
This can be interesting for you if you are going to the Zoo of Antwerp or in the neighborhood of 'het Zuid' where you will find many museums and art galleries.
If you need more info on the orange streets or wish to explore the interactive map of the streets, the rates and the regulations linked to them, you can download Seety through this link.
Conclusion
We hope this article will help you spare money and time searching for your ideal parking in Antwerp.
Want to help the other people like you? If you know about other parking tips that we didn't mention, don't hesitate to leave them in the comment section below ??