Seety - The best application to pay for parking ... also for professionnal car journeys!
Do you travel a lot for business? Are you self-employed or a solo entrepreneur? Seety is the parking app you need. Separate and manage your personal or professional parking costs simply and quickly. Moreover, Seety is the cheapest, but also the most complete and transparent parking application.
Activate your professional account and switch from your private to your professional account in 1 click.
If your job requires a lot of business car journeys, you can easily activate your business account in the Seety app. Simply enter your data in "My pro account " in the app's settings.
Once your account has been activated, simply switch on or off the "Pro account" button in the payment menu. This makes allows you to switch from a pro account to your personal account. It's as simple as that!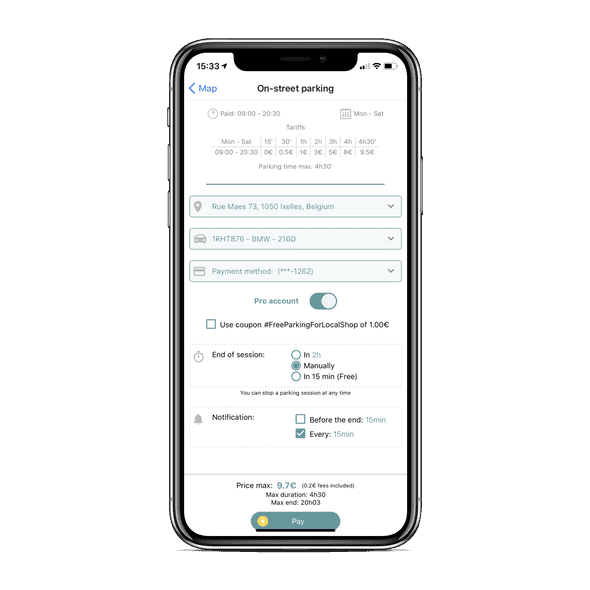 Activate your pro account to pay with Seety
Keep track of your expenses easily thanks to the monthly invoice - No more paper receipts
As a self-employed person, you can deduct your parking costs for business car journeys. The advantage of an app is that you no longer need to keep paper receipts.
The invoice will be generated at the end of the month under "My transactions " in the menu under the "Pro" tab, sorted by month. You can download it in PDF format.
Discover the payment functionality
If you use your account for personal transactions as well, you will find all your receipts under the "Private" tab.
Add multiple credit cards and cars at no charge
You have different credit cards and/or you drive several cars? You can add them in Seety and change the data directly in the payment window before each new parking transaction.
Click on Payment method or the Registration plate, to change your data.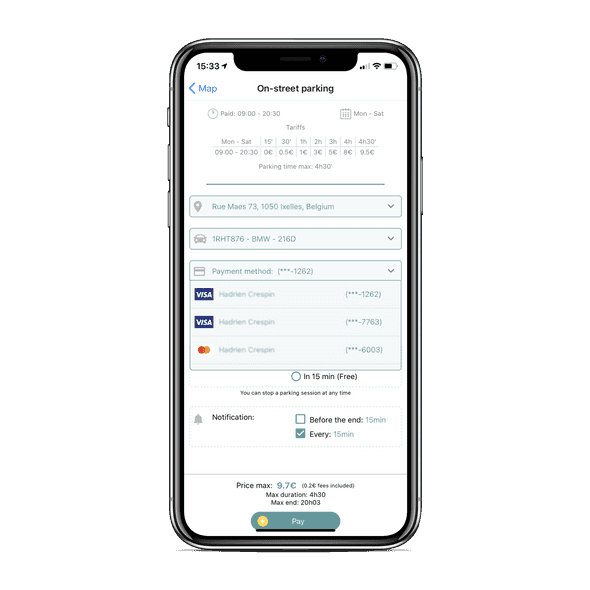 Add your credit cards and cars in Seety
Pay your parking per minute - Easily stop and/or extend your parking session
One of the biggest advantages of paying for your parking via a parking app is that you pay your parking per minute. You will never pay more than needed again.
You have two options to end your parking transactions:
Manually: Start your session and end it when you leave your parking spot for good
Automatic end : Start your session with a predefined end time. Is your meeting lasting longer than expected? No worries! You can extend your parking session easily.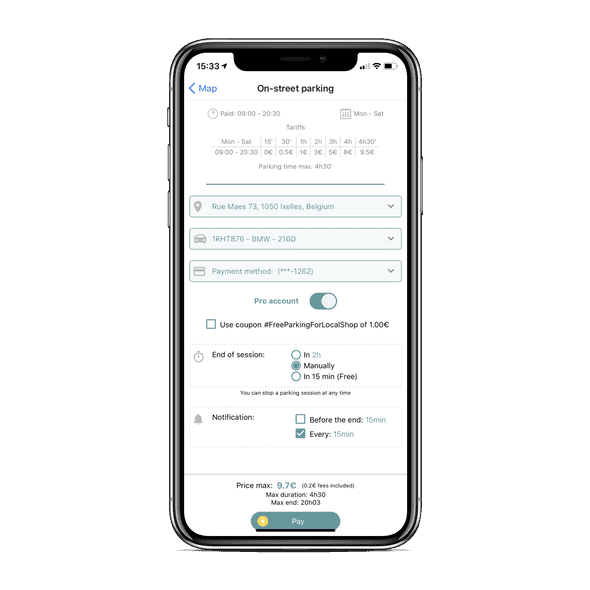 Discover the pay per minute functionality
No more unpleasant surprises thanks to intelligent notifications
Seety allows you to customize your smart notifications to avoid any unpleasant surprises, such as forgetting to end your parking once you leave your parking space. You can choose between notifications that occur:
Before the end of your session: X minutes before the end*.
Every X minutes
Click on the time to customize it in order to suit your needs.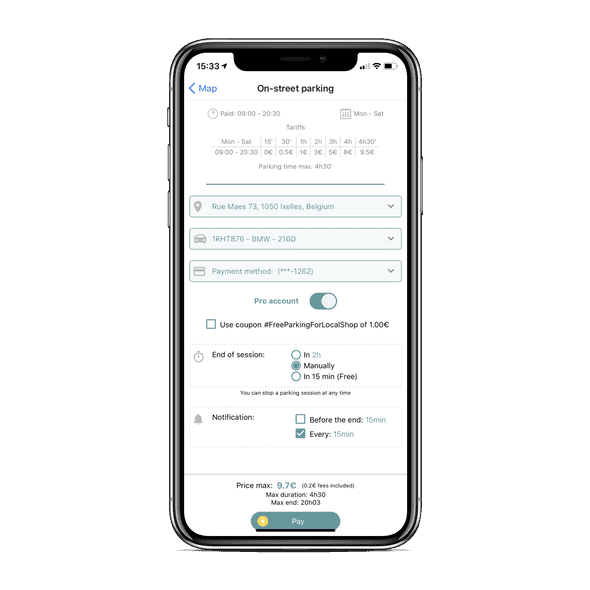 Benefit from Seety's smart notifications
Seety is the cheapest app on the market
Seety is the app with the cheapest transaction fees on the market. On many transactions it makes a difference!
Seety is the only app that helps you find a free or cheaper area near your destination.
Seety is the only app that shows you where to find free or cheaper parking areas near your destination thanks to its interactive map and colour coding. Each colour code corresponds to a different parking regulation. Here is a quick overview of the colour code:
Green zone: free zone
Blue zone: free zone but limited in time (blue disc compulsory)
Yellow zone: paying zone (the cheapest of the paying zones)
Orange zone: paying zone (normal rate)
Red zone: paying zone (the most expensive of the paying zones)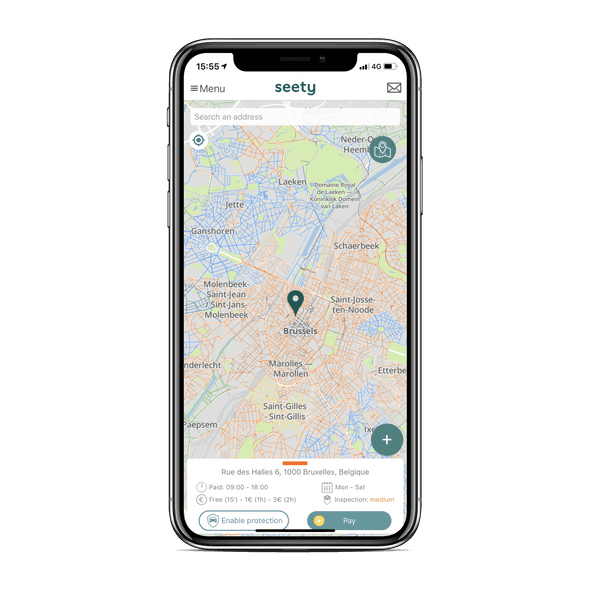 Find a free or cheaper area near your destination.
All information on parking regulations can be found in the bottom menu. To view detailed information, swipe up.
Conclusion
Seety is the most complete app to pay for parking and offers many advantages for paying for parking for professionals.