The Seety app has several features to help you optimise your parking and save tens of euros every month. We explain how hereunder.
Reduce your parking fees
Seety allows you to find free parking areas in more than 175 cities in France and the Benelux countries.
1) Choose your destination
To find the most advantageous parking option near your destination, position the cursor on the right place on the map. You can do this in one of two ways:
Use the geolocation button if you are already at your destination
Search for an address in the app's search bar if you have not yet left.
2) Consult parking information
When you position your cursor on a street or a public parking (P icon on the map), you will find an overview of fares and regulations in the bottom menu.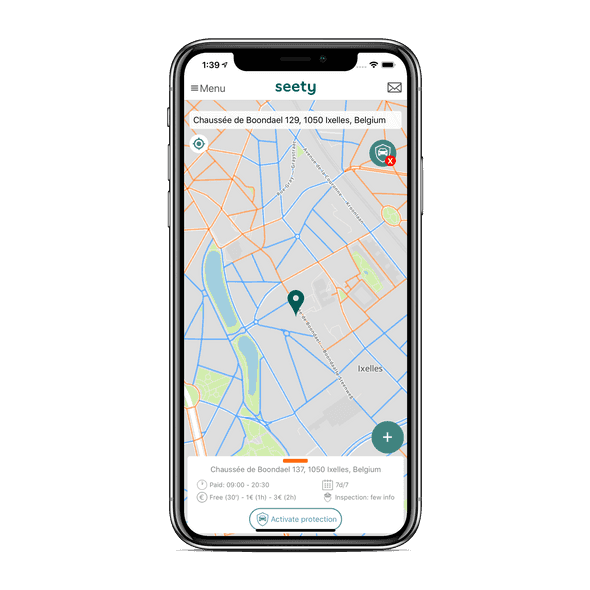 Swipe up the bottom menu to access the full regulations and information shared by the community.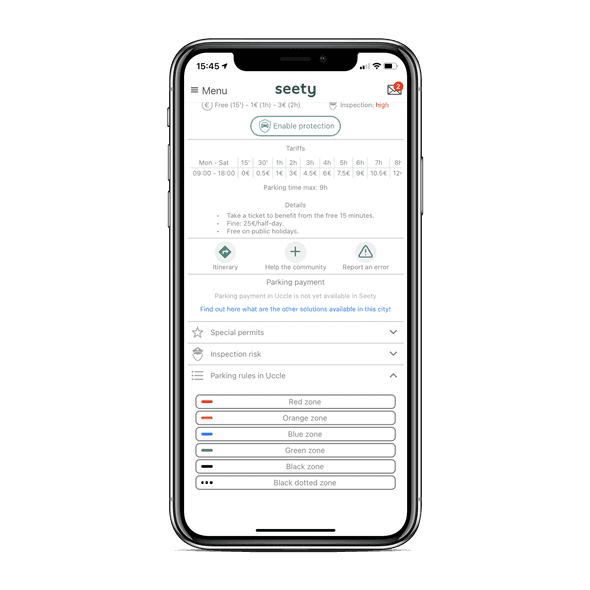 With Seety you have all the parking information in your pocket. No more running to the parking meter or searching in vain for a sign.
3) Identify which areas are free or cheaper
To help you identify the most advantageous parking area in a matter of seconds, we use a similar color code in all the cities we cover. Each color code on the map corresponds to a different parking regulation. Here is an overview of these:
Green zone: 100% free parking
Blue zone: free parking but with disc
Yellow zone: paid parking but the most advantageous one
Orange zone: standard paid parking
Red zone: expensive and limited paid parking
Purple zone or Black zone: residential, pedestrian or prohibited parking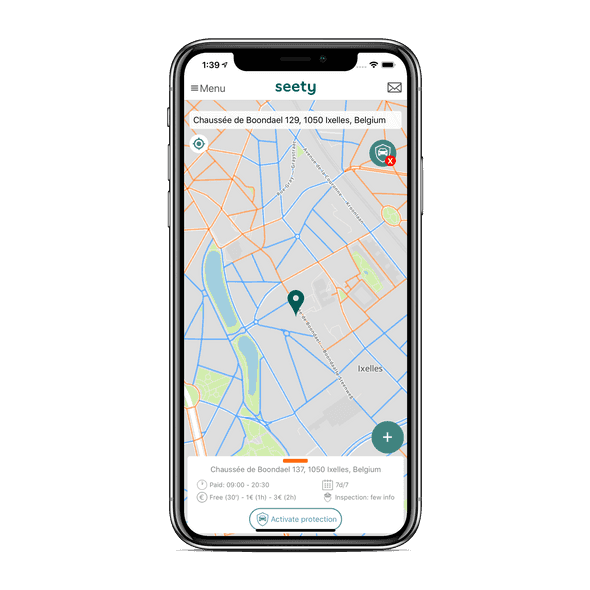 Dotted colours are used when there is a slight variation in regulations in an area.
Avoid parking fines and unpleasant surprises
Seety is above all a community of more than 250,000 people who help each other to avoid unpleasant surprises. Here's how:
The latest parking information : The information in Seety is constantly updated by the community. So you'll always find the parking option that suits you best and you'll never be surprised by new regulations that are difficult to understand.

Alert in case of control : The community will also alert you if a controller is spotted at a limited price on your car. To receive alerts simply press the "Activate protection" button. You will receive a notification when a controller is spotted within 300 meters of your car.

Customisable info on the map: You can customise the information on the application's map to make sure you are parked in the right place. For example, you can add the boundaries of your residential zone, the parking spots reserved for people with reduced mobility, etc.